Fitness at Your Fingertips
Staying in shape while traveling doesn't have to be difficult. Complimentary for guests of the hotel and open to locals interested in a gym membership, the Illinois Beach Hotel Fitness Center is a full-service gym designed to help you maintain or begin a healthy lifestyle.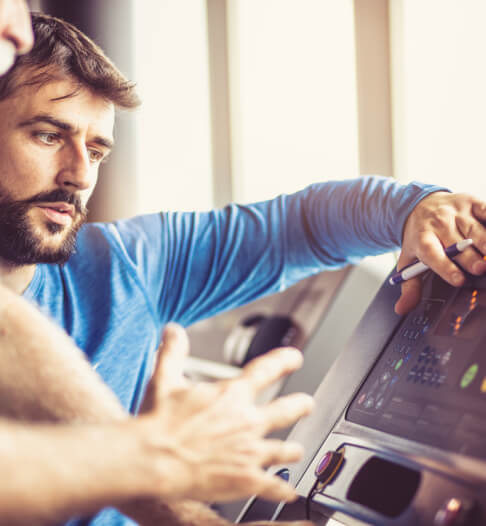 Personal Training
Schedule a session with one of our personal trainers.

"...The facilities were amazing..."

"Thank you for a wonderful weekend. So many wonderful women enjoying yoga, great food and relaxing. The facilities were amazing and so is the community you have built!! So glad to be a part of this"

"...Classes were wonderful..."

"GREAT JOB!!!!! I could not have had a better time. Classes were wonderful. I enjoyed it all!!! October sounds like an excellent time to do again. Sign me up. I am ready for another "Yoga Retreat". I will bring some more energy treats."

"...Loved the relaxation and meditations..."

"I had a great time meeting new people. I thought the retreat was perfect. I think you chose a great variety of classes. Space was good. Schedule was good, allowed for some down time. Busy, but not over scheduled. Levels and modifications were good for beginners and advanced yogis. Loved the relaxation and meditations. Personally, I'd have liked a water yoga both days. Food was amazing. Rooms are so nice! Staff super accommodating. Kris you did a fabulous job!!!!!!"

"...absolutely magical..."

"The Yoga retreat was absolutely magical from start to finish. The room I shared with my buddy was clean and calming. The view overlooking Lake Michigan fit right in with the theme of the weekend. The hotel was clean, and staff were all friendly and welcoming. That alone is worth its weight in gold. You did a remarkable job!! Thank you for such a beautifully restorative weekend! Oh, the food was out of this world delicious. Hats off to the chef!"
Indoor swimming pool
Hot tub
Dry sauna
Treadmills
Massage therapy
Bike rentals
Aerobics room
Locker rooms
Fitness orientation
Elliptical machines
Fitness classes
Free weights
Stationary bikes
Stairmasters
Beach access